In general, this helps with preventing last-minute events from popping up with little notice to your sub-admins and admins for approval as well as little advanced notice to your facilities team.
This feature is for the organization that wants to prevent its users and sub-admins from entering an event that is less than a certain number of days before the Event Start Date/Time (for example, no events created within 2 days).
However, if the second portion of the setting is also enabled, then admins will also be prevented from scheduling a last-minute event.

This setting can be found under Settings > Advanced > General > EVENT CREATION and find the following setting:
Once you toggle this setting on, it will prevent all users and sub-admins from submitting an event X days before the start time. You can also decide to apply this to admins as well #1 OR leave it off (as shown). You will enter the number of days for this restriction next to arrow #2.

Now when Users go to enter an event, the dates are not available to select from the Date Selector
In our example, today is August 12, and you can see the first available date is August 15)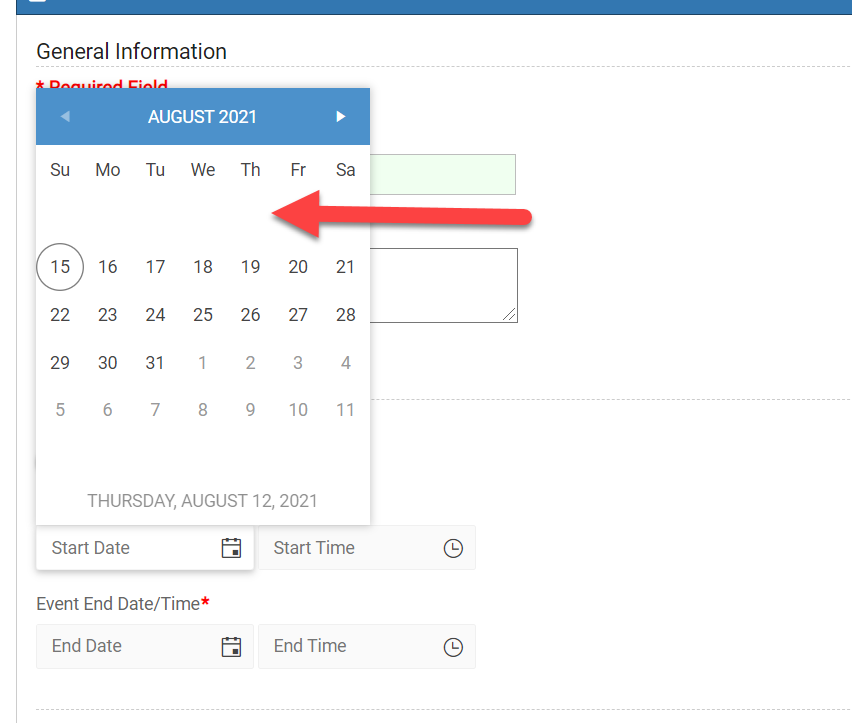 In addition, if manually entering the date, the User will see the following error upon hitting Save & Proceed: