Admins have the ability to add Closures for reasons such as:
Holidays
Inclement weather
Work being done
Emergencies
Canceling a large number of events in bulk
Closures are for a particular instance and time frame. Admins have the ability to close down a facility as a whole, OR by location OR by specific spaces, resources and/or services. Admins are also the only ones that have the ability to override closures, meaning after making one for locations, spaces, resources and/or services, they can still create an event that conflicts and push it through approval!
Adding a New Closure
Go to Settings > Advanced > Availability > Closures, then select "Add New Closure".

Add name of closure and description….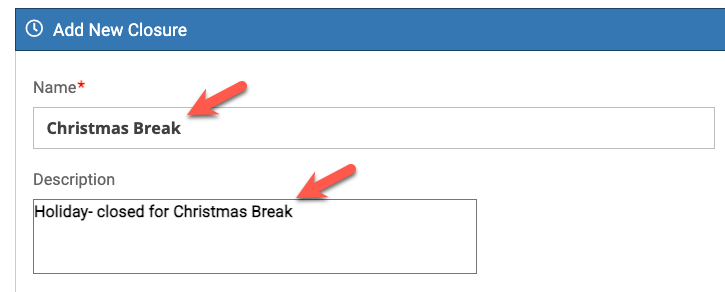 If the closure is for one or multiple locations, be sure to let eSPACE automatically create a calendar label for it that will display on your internal calendar.
You can also choose if you want the closure to be automatically included on your Public Calendar.

Next, add the closure date and select if you want it to be an all day closure OR start and end at a specific time. You can also make the closure with recurrence rules (daily, weekly, monthly, yearly, custom).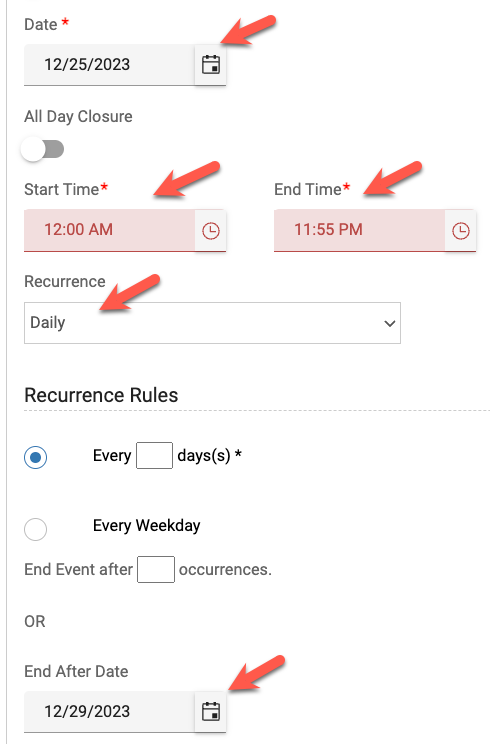 Additionally, you can include Setup and/or Tear Down times to be included in your Closure:

If you want the closure to apply to all locations, spaces, resources and services, then click SAVE.
Location Specific
However, if you only want the closure to apply to specific entire locations, then toggle on "Is this Closure Specific to an Entire Location" and then choose the locations that need to be affected by the closure. Once you select a location then all the spaces, resources and services at that location will be unavailable to reserve on events.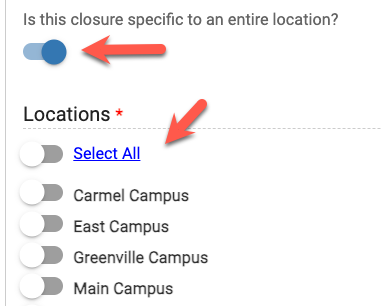 Item Specific
If your closure is "item specific" (for spaces, resources, or services), then be sure to enable "Is this Closure Specific to Certain Items" and then choose what items at different locations are needed.

Once you have finished creating the closure, be sure to SAVE!

Selecting Affected Events and Override
Once that you have completed the form, all affected event occurrences will be displayed. You can choose the Select All button or only select a few of the events that you want to cancel, then select Cancel Selected Occurrences.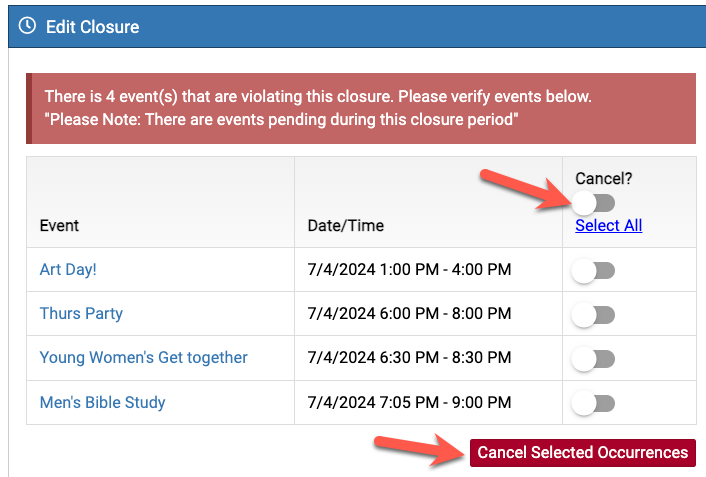 When you do that, another window will pop up with the reason for the closure. Also, if you have the setting called, A recurring event must be re-submitted if an occurrence is deleted/canceled within Settings>Advanced>General>Event Creation, you can choose to un-check the box, shown below, to override the setting, then SAVE.
This will prevent the Admin, event owner or event editor from having to go back to their dashboard and resubmit ALL of the events that are being canceled, especially if you have an emergency where lots of events are affected.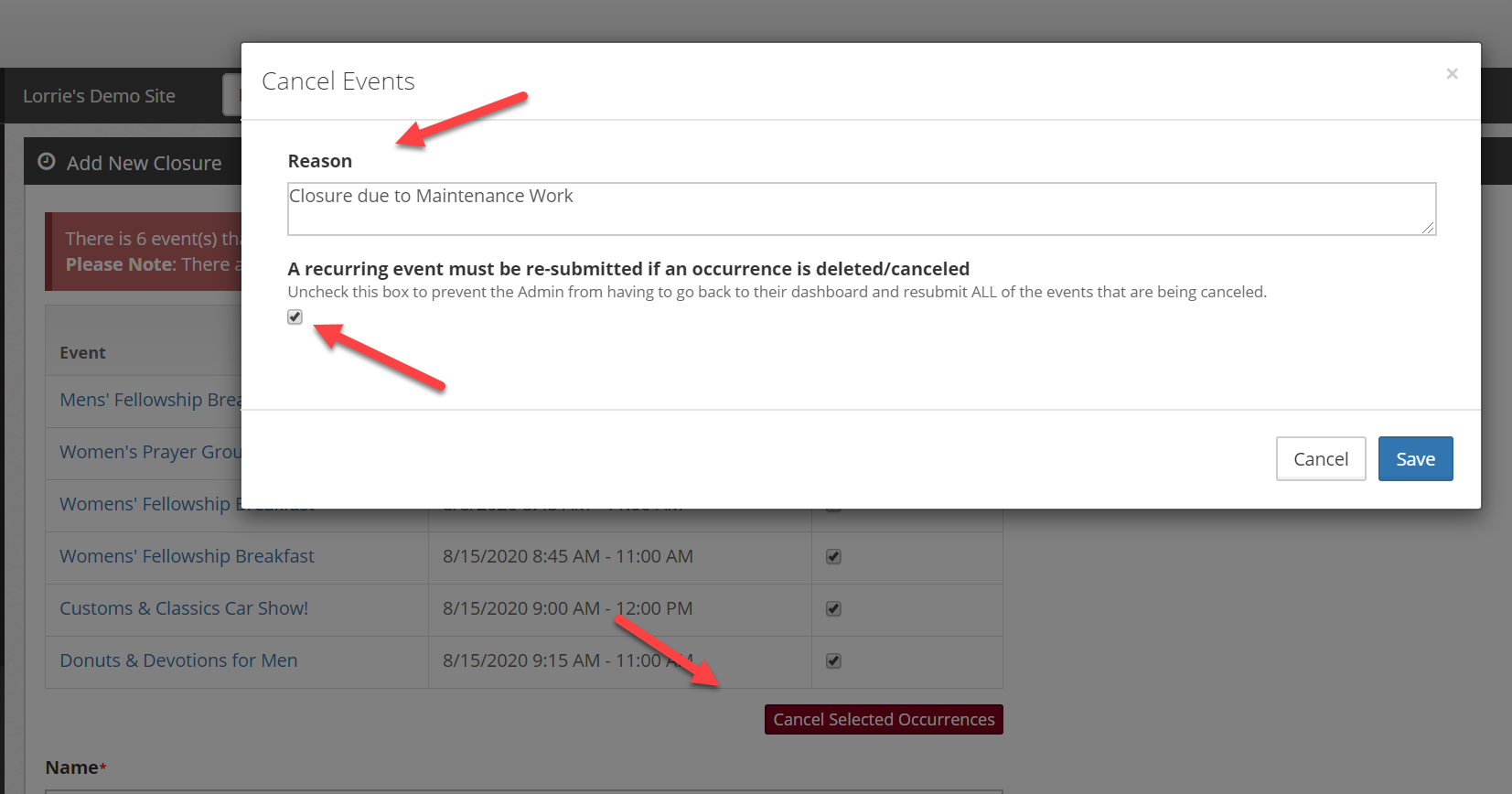 Adding an Item(s) During a Closure
Once a closure is put in place, then regular users and sub-admins will NOT be able to submit the event for approval if they have items selected that are affected by a closure.
However, in order for this to happen, the following setting MUST be enabled under Settings > Advanced > General > Conflicts, "Prevent User & Sub-Admins from Submitting a Conflicting Event".
All users will be able to see if a space, resource and/or service is affected by an upcoming closure when they are choosing items on their event. For any items affected, they will see the word "Closure" next to it.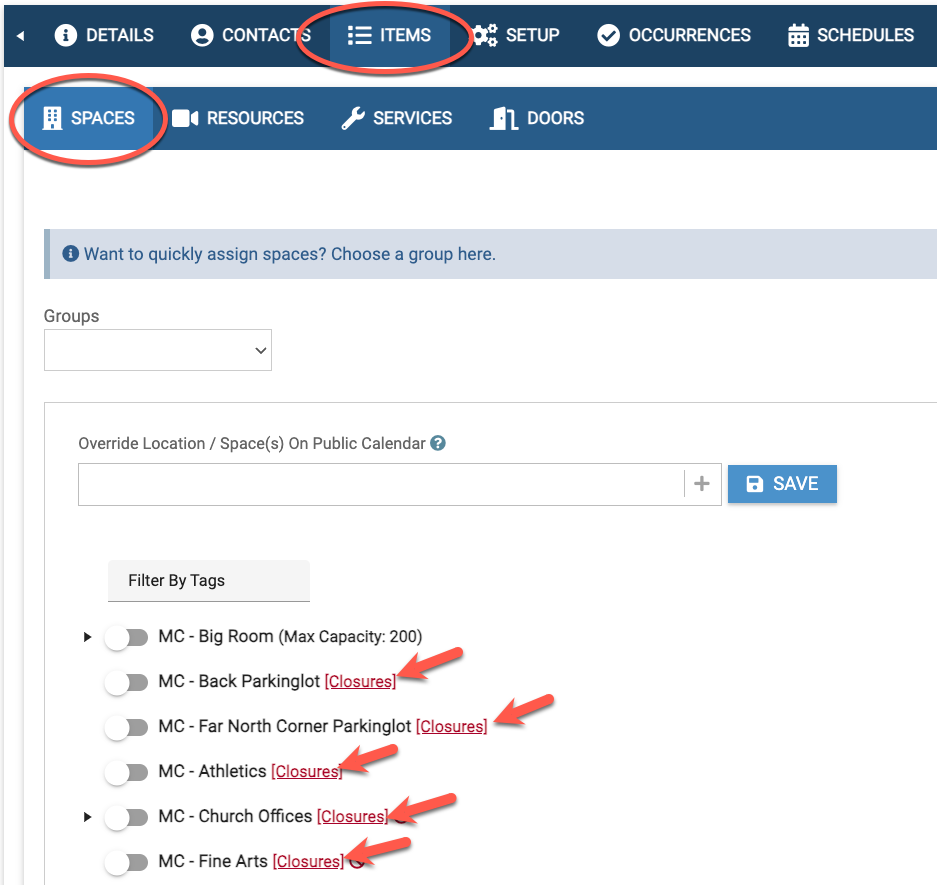 If a user sees "Closure" next to a space, resource or service, then they can click "Closure"
to see which dates and times an upcoming closure conflicts with their event or occurrences on their event.
Resolving Conflicts with Closures on an Event
Before submitting the event for approval, they can select a different space, resource or service, or select a different day to have their event, or cancel an occurrence that falls on the day with the closure in order to resolve the closure conflict before submitting the event.
If users and sub-admins try to submit an event for approval that have items selected that are affected by an upcoming closure, then they will get an error message and not be able to submit the event.

Calendar Closures Reflected on Calendars
Here is an example for a closure, due to a Holiday, that is represented on my internal and public calendars.

When a closure is added, our system automatically creates an Event Category named "Closure". This event category cannot be edited and users cannot add this event category when creating an event.