Admins, you can easily CUSTOMIZE and EMBED your Public calendar!

To get started with this great new feature, go to Settings>Advanced>Public Calendar, as shown below.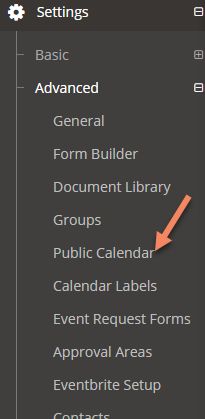 This will bring you to a brand new "settings" page where you can customize many options around your Public Calendar:

1. Basic Options
The filter options can be used to generate a Public Calendar for a specific combination of Categories and/or Location
The "Public Calendar" comes with a Request Event button by default. Check the box to hide it.
The "Title Bar Label" will be used to show the name of the Public Calendar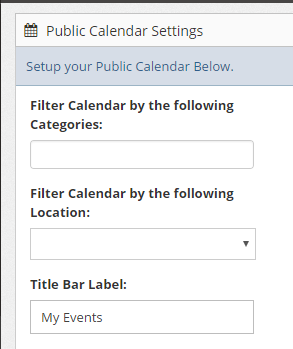 2. Choose what Forms to include on your Public Calendar



3. Change Font and Color
This section allows you to change the default "font" and colors of your Calendar.

4. Use Category Colors to Differentiate your Categories



Choose "Filter Calendar" on your Public calendar, and another window will open where you can view and filter events by one or more location and/or categories.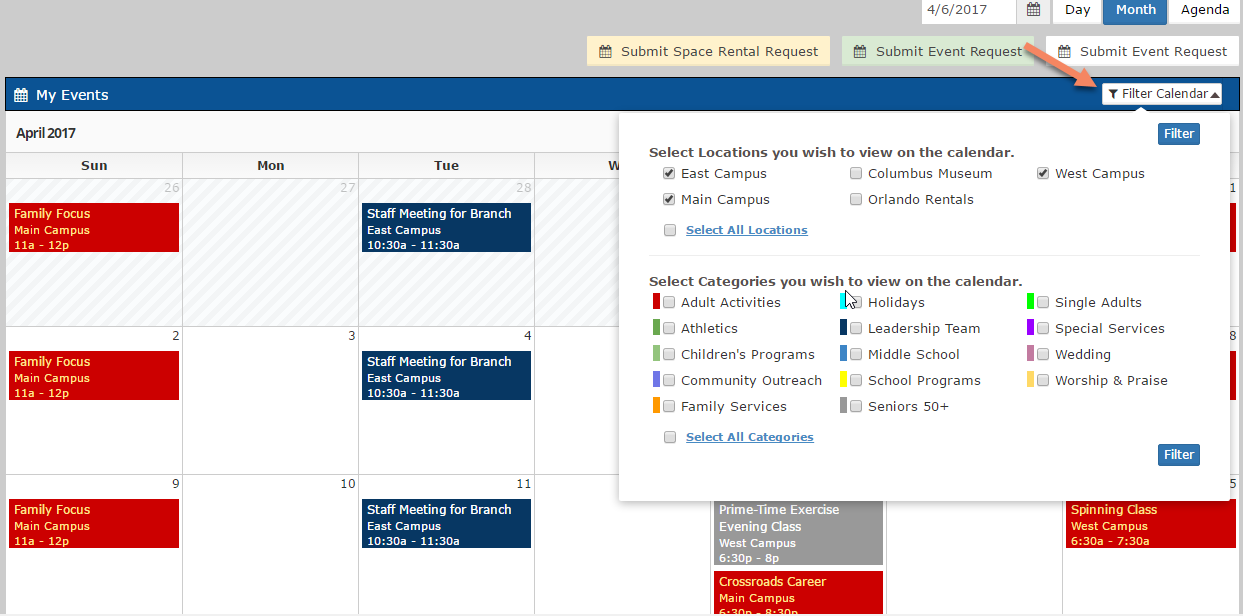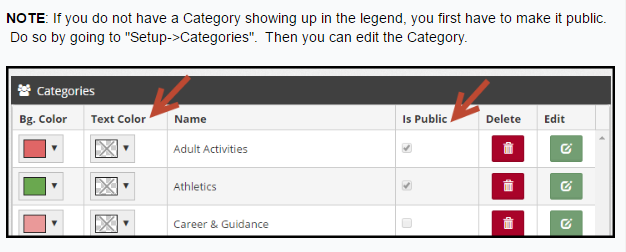 5. Additional Filtering & Display Options
Allow calendar filtering - When you select this, users will be able to override ANY Event Categories and/or the Location set above.

This set of options allows you to decide which calendar views you want to show - (Month, Day, Agenda)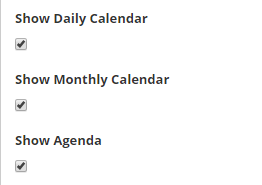 An option to set your default calendar view (Month, Daily, Agenda).

An option to show the LOCATION CODE on your events) OR show FULL LOCATION NAMES (if applicable.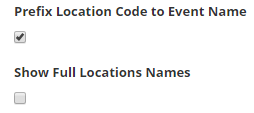 Show Subscribe to Calendar Button

By checking "Show Event Details" you are allowing pop-ups with event details to be displayed on your public calendar. If you opt not to have pop-ups when clicking on an event, simply un-check the box and SAVE to hide them.

Show Contact Details in Details Pop-up - by checking this, the public will see the contact details when they click on the event.

Show Schedule Name in Lieu of Event Name - if you have different schedules within your event, the schedule name will show for the event occurrences that are associated with it.

Show Canceled Event Occurrences on Public Calendar - if you want the public to see that an event or occurrence has been canceled, check this box.

Show Spaces on Public Calendar and Pop-up Details - When selecting this box, the space(s) will show on the public calendar and within the pop-up details when you click on the event. If you have reserved several spaces for the event, but have selected a space override for the public event, the override space will be displayed only.
NOTE: After making your selections, be sure to SAVE!


6. Testing your Calendar + EMBED code
The final section is the ability to actually "test" your Calendar based on your options

There is also an EMBED code that you can "copy" and "paste" into any of your pages on your own site.

7. Printing the Public Calendar
Visit your Calendar from your Left Navigation Dashboard
Choose the view you would like - Daily/Weekly/Monthly/Condensed/Agenda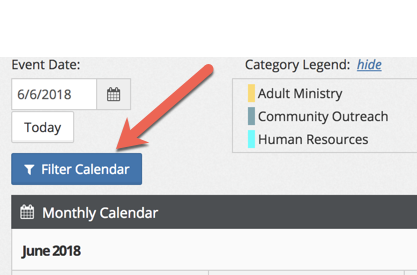 Check "Only Public"
Click Filter