FACILITeSPACE is our group of Integration modules that integrate directly with eSPACE that include:
COOLSPACE - HVAC Integration
INFOSPACE - Digital Signage
SECURESPACE - Door Access Controls
BRIGHTSPACE - Lighting (COMING SOON)
TECHSPACE - Device Integration (COMING SOON)
These are all available at an additional cost.  
Once you have enabled your first module, the FACILITeSPACE option will be enabled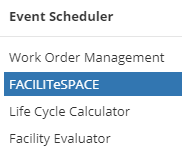 SETTING UP FACILITeSPACE USERS
Currently all eSPACE admins can access FeS.  If you need additional facility members to gain access to FACILITeSPACE you can set them up in the SETTINGS->USERS.

If a user has a permission for a FeS module, they will be able to access that module on the dashboard:

This gives the user quick visibility into the next X events and the ability to see the HVAC times and quickly update.  While this info is still accessible from the Event Details now you can have a quick and easy way to see the HVAC times and override as necessary.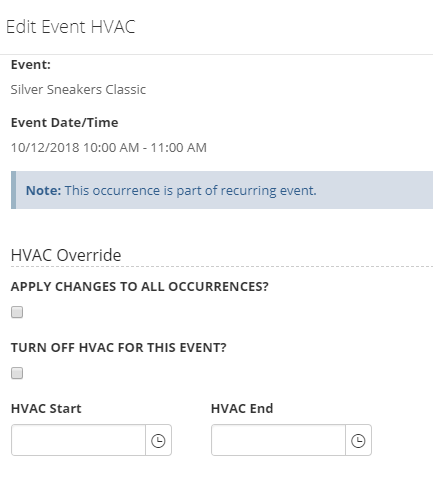 NOTE: Events will NO LONGER have to be re-approved if you update an HVAC time.
DASHBOARD SETTINGS
FeS users will be able to setup some dashboard board settings including:
Grid Order
The Next X Days of info they want to see on the dashboard
Ability to "hide" Grids
Ability to default grids "collapsed"