Admins, if your users are not getting their initial email with password information or having trouble resetting their password, you can reset their password for them! Go to SettingsBasicUsers, click the green edit button to the right of the desired user and select "Change Password" as shown below. This allows you to set a temporary password for them.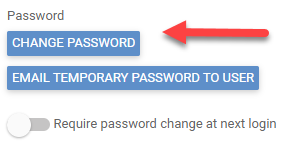 A new window will open (see attached below) where you can add a password, confirm it and then SAVE!

The user can then log in to app.espace.cool, using their email and temporary password. Once they get logged in, they should go to their Profile, update their password and SAVE!