As an Admin, you can manage Organizational Contacts by going to "Settings>Advanced> Contacts", located on the left sidebar of your dashboard.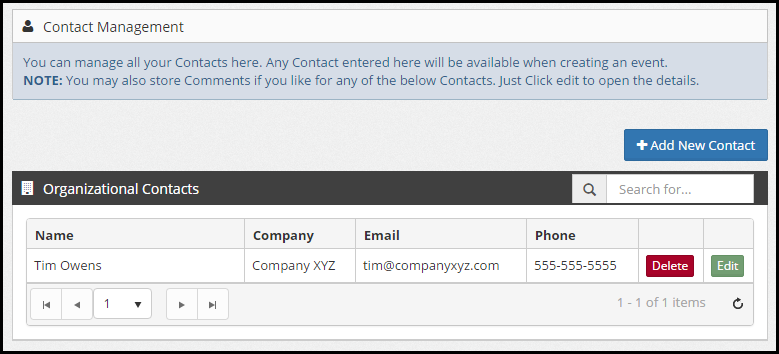 From here you can:
Add New Contacts.
Edit existing contacts, including adding "NOTES".
Delete Contacts.

Not only can you manage Contacts at the Organizational level, you can "Quick Add" any of these Contacts to your Events. This prevents you from having to enter Contact info over and over again when adding them to an event.

Note: Once the contacts are added within Settings>Advanced>Contacts (Organizational Contacts) by the Administrator, ALL users have access to the existing contacts and can add them to an event.
To add existing Contacts to an event, simply check the "Add Contacts" checkbox on Page 1 (Event Details) of Creating an Event.

If checked, when you click Next, you will be directed to the "Contact" tab.

From here you may:
Simply click the green "Add to Event" button to add any existing Organizational Contact to the event.
Create a new Contact by clicking the "Add New Contact" button (All users can add a new contact to an event that will be added to "Organizational Contacts"; however, only Admins can edit or delete a contact once it is added).
When creating a new Contact, you will also be given the option to "Save the Contact for Future Use" which will add the Contact to your Contact list.

NOTE: Once the event has been approved, the contact(s) that you selected to be added to the event, will be sent an email notification with event information.