Admins can now setup inbound emails addresses to process work orders! This has been a highly requested feature to make submitting work orders easier for your users. Once setup, users can simply email their requests including attachments and they will be created in the Work Order Management system.

IMPORTANT NOTE PRIOR TO SETUP: Service Categories are required for new Work Orders. We recommend that you create a new Service Category called "Public Email Request" and assign this "Service Category" to the public email request within Setup. You will also need to give your users permissions for the new Service Category. To do this, go to SettingsBasicUsers, select green edit button and check the new service category and SAVE. Now you're ready to get started with setting up this new feature!
To get started with this feature:
Go to Settings-Advanced-Public Work Order Request, located in the left navigation menu and click "Email Setup".
Next, click the blue button, complete the required information, then SAVE.
eSPACE will then generate an email for you to use!
You can also setup "forwarding" so that you can use an email from your domain. You can setup as many different emails as you like to segregate and organize the requests.
In addition, we also added the ability to route these request to certain users or departments. This allows quick auto-assignment based on the email you have setup.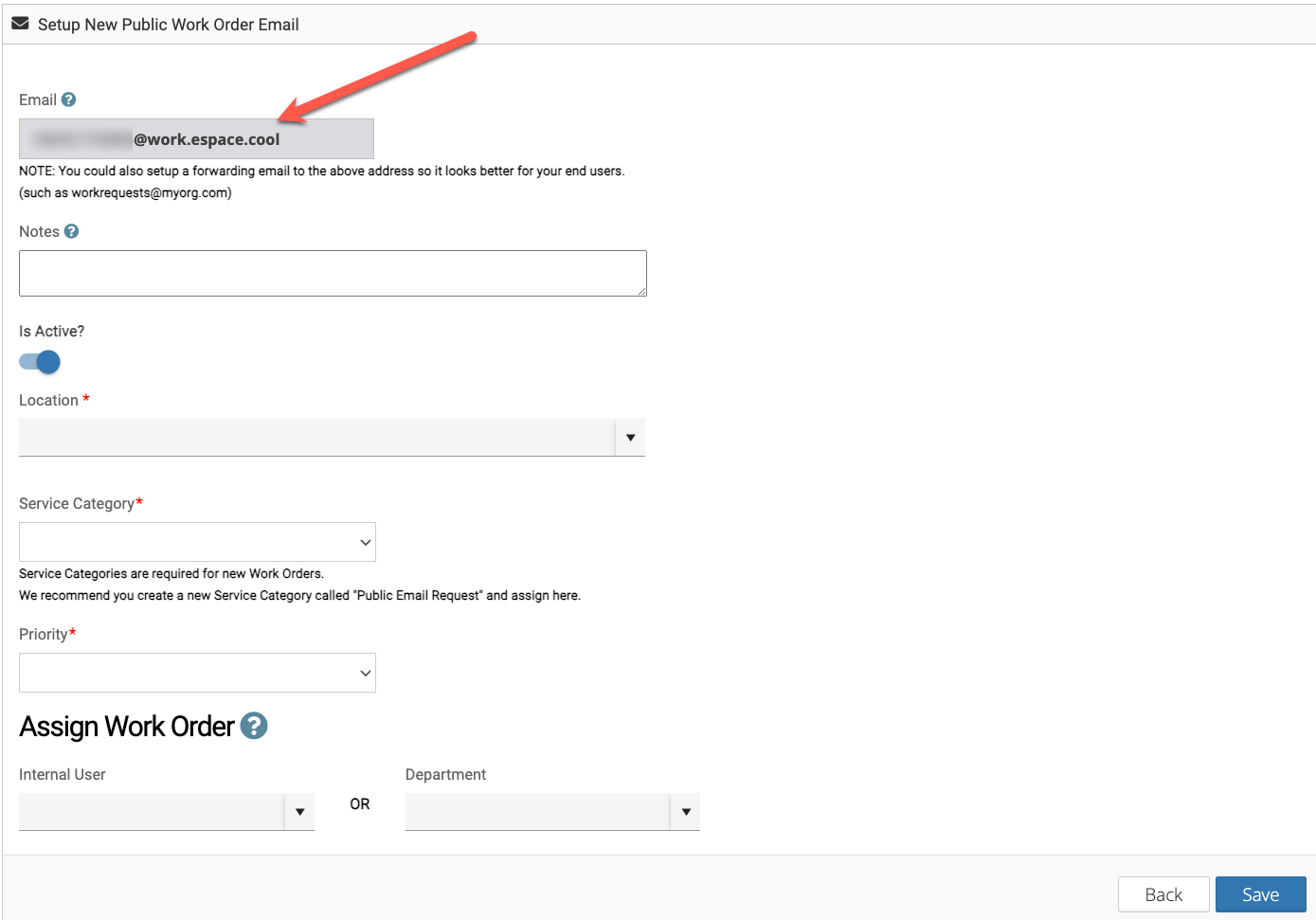 Questions and Answers:
Q. What happens when the email for the work order request is sent?
A. Based on how an Admin set it up, it will either show within the "New Work Orders" grid to be approved/assigned OR if automatically assigned within setup, it will show under the appropriate grid (ex: My Department Work Orders, Work Orders in Progress, My Assigned Work Orders).

Q. Does the requester receive emails when the work order is approved, completed, or closed?
A. The requester does receive an email when the work order is approved, declined, and completed/closed (see below).