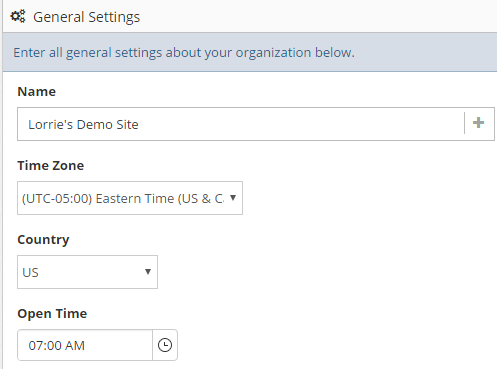 GENERAL: This section allows you to setup your organization's name used in the page headers, set an "Open Time" for the time "picker" and other system wide settings.
Go to Settings>Advanced>General:
Enter your "Organization Name" that you want displayed throughout the application
Choose from the drop-down menu your "Time Zone"
NOTE: It is very important that you select the correct time zone for your organization as it has it effects the internal calendar and time of your events, as well as, the history of your event (history tab). Also, if you have the COOLSPACE integration, choosing the right time zone is crucial for your HVAC to be engaged and dis-engaged at the correct times.
Choose from drop-down menu your "Country".
NOTE: This is important as it impacts your billing options for State/Providence and Zip/Postal Code. For example, if you live in Canada and you do not select this as your country, you will have an error message when trying to add your Providence and Postal Code!
Enter an "Open Time". This is the time you want to be the default start time in your Time Picker for each event. If you do not schedule events prior to 7:00 AM, then select 7:00 AM for your Open Time.
NOTE: Events that are added prior to the open time will not show on your internal calendar!