You now have full control of scheduling your event reminders!
To add a reminder to your event, go to the event "Details" page (first page of the event creation process), then Optional Settings and "Event Reminders"
You can:
Choose WHO you"d like to remind
Choose the number of days before the event that you would like the reminder sent, and ...
You can also add reminder notes!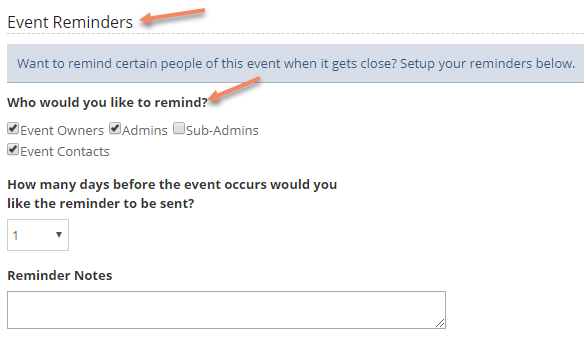 NOTE: The ability to add reminder notes will be displayed, once you select the users you want to remind. Reminders will be emailed accordingly (3AM EDT) and a pop up reminder will show on your dashboard. Reminders can also be found on the left sidebar of your dashboard (see below) with the number of un-read messages displayed.

Event reminders will now include the status of the event as well as the status of the specific occurrence when there are multiple occurrences within an event.