ADMINISTRATOR(S) & SUB-ADMIN(S) DASHBOARD:
The Administrator(s) and Sub-Admins will have 7 default "grids" (Requires Administrative Approval, Upcoming Approved Events, My Approved Events, Pending Approval, Conflicts, Resource Shortages, Drafts) on their Dashboard that can be expanded, collapsed or hidden.

If an Admin has been given Pre-Approval Rights and/or Final Approval Rights, they will also see the additional grid(s) as well.
Pending Pre-Approval (If selected in SettingsAdvancedGeneral and user permissions given)
Requires Administrative Approval - Events that users have requested and require Administrator approval either by Sub-Admin or Admin. From this section the Administrator can approve or decline the requested event. If the event is declined, you will have the option of including a note for explanation and will be delivered as a message to the event owner's dashboard.
Pending Final Approval (If selected in SettingsAdvancedGeneral and user permissions given)
Open Event Requests - (Optional) These are events that have been requested from the Public calendar. For more information, go to Article "New Custom Event Request Forms."
My Drafts - Events individuals have as created under their personal login that needs to be completed and/or submitted for approval. Note: We do not show the Drafts grid if you do not currently have any drafts.
Upcoming Events- Next 30 Days - All Admins and Sub-Admins are able to see all their upcoming events they have approved without them disappearing from the dashboard or having to go to the ALL EVENTS grid or run an report to find them.
My Approved Events - Approved events that YOU have personally created.
Pending Approval - Events that YOU have created and are awaiting approval by appropriate Sub- Admin (Area of Approval) and/or Admin's approval.
Conflicts - Events that are in conflict with other events,either pending or approved.
Resource Shortages - When using Inventoried Resource(s) (optional), all shortages will show here.
Sub-Admin users will only have the "Requires Sub-Admin Approval" grid along with grids 5- 10 on their dashboard.
Users will only see grids 5 - 10.
Calendar View Only users will NOT have a dashboard as they will only be able to see the calendar.


Menu Bar Options
All admins, sub-admins and regular user (not Calendar View Only) will have the following options in the top right-hand side of their eSPACE account.

My Modules
When you click on the drop-down menu, you will see the following (see below).
You will see each module (Event Scheduler and/or Work Order Management) here that you have subscribed to and can toggle between them. The Life Cycle Calculator and Facility Evaluator are free!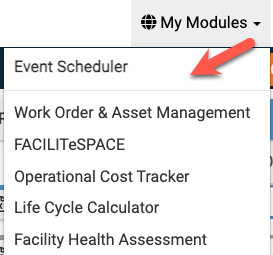 Help
Here, you can click on the drop-down menu (shown below) to do the following: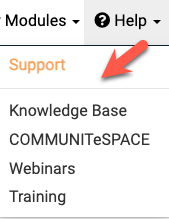 Support - You can easily contact Support by clicking here and submitting your request/question. Our team is here for you and happy to assist you!

If you have Customer Care Basic on your subscription then you will get a response back in 1 business day.
If you have Customer Care Plus on your subscription then you will get a response within 2 business hours.

Knowledge Base - Here, you will find our training articles that walk you through how features in all of our modules work! They have screenshots and we add new ones for new features that we release. Use the search bar there to look up articles that you need to learn eSPACE better!
COMMUNITeSPACE - If you have a suggestion or request for a new or updated feature, we want to hear from you! We value our client's suggestions and want to learn how we can better assist you to help you be more efficient and effective. Once you add your suggestion/idea, other customers will have the opportunity to vote on it. Our Development team checks these often and considers them for future enhancements.
Webinars - Come join us for a live walk-through that highlights different features of our Event Scheduler and/or Work Order Management modules every week. This is where you can register for them and see the topics of the next several upcoming webinars. Come and ask specific questions and get live answers. You can register for one or multiple

"

Live Webinars

"

!
Training - If you or your staff ever need additional one-on-one time with us, you can always request training at any time. Click

HERE

also to request more training. Depending on what level of Customer Care you have will determine the hourly cost.

If you would like to request a live one-on-one demo of a new module that you are considering adding to your subscription, click

HERE

to schedule a live demo!
Updates about New Features & Modules
Click here to see all updates, new features and more! We release new things quite often so make sure to click on the "gift icon" whenever you see a red circle with a number inside. That's the alert that we have a new update. The gift icon will take you to a page with our most recent Knowledge Base articles that will walk you through our latest features & modules!

Personal Account Information
This menu provides all of your personal account information, etc.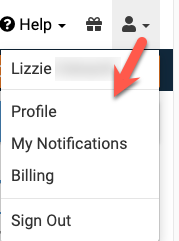 Your user name
Profile - Within your profile, you can do the following:
Change Name
Add/Modify e-mail address
Add/edit password and confirm
Select your default calendar view, then when you click on the calendar icon in the left side menu bar, it will take you straight there
Choose to setup and teardown times on the calendar for your account
Choose to make all your events default to be public or not (public ones will display on your website if you are using the Public Calendar feature under advanced settings)
Connect your personal Zoom account to your personal eSPACE account so that when you mark that your event is virtual eSPACE automatically generates and pastes in a meeting link from Zoom (anyone who sees the link will be able to use it to join).
4. My Notifications - Each user has the ability to manage their own notifications. To adjust your notification from eSPACE navigate to your profile icon > My Notification > Notification preferences.
5. Billing - If you are a billing contact, you can go here to Manage Your Subscription and/or view History (transaction history).
6. Sign Out - Click here to sign out of the system.

On the top black band of the Dashboard page, there are 2 options:

Search - You can quickly search here for any event by the key words in the event name or Event ID.
Adding an event

Quick Event Create allows you to skip some detailed options that are available in the Add Event option and helps you add last-minute/simple events to the calendar quickly.
Add Event allows you to see all the options for editing an event including things like the Setup tab where you can add notes to spaces, resources and services chosen on the event or fill out internal forms that are attached to spaces, sources and services.
Dashboard Settings
On the top left side of the Dashboard and under your name, you have the following options:

Edit Dashboard Settings - You can change your dashboard font size (Small, Medium or Large) and change the order of your dashboard grids by simply dragging the row of your choice to the new desired position. You can also choose to collapse your grids, and then expand when viewing, choose the rows per page, that you want to view within the grids, and even hide grids that you are not using.
Reset All Grids - Sometimes your dashboard can get cached. Click on this to reset all of your dashboard grids.(NOTE: This does not clear cookies and/or cache for the website or your whole account).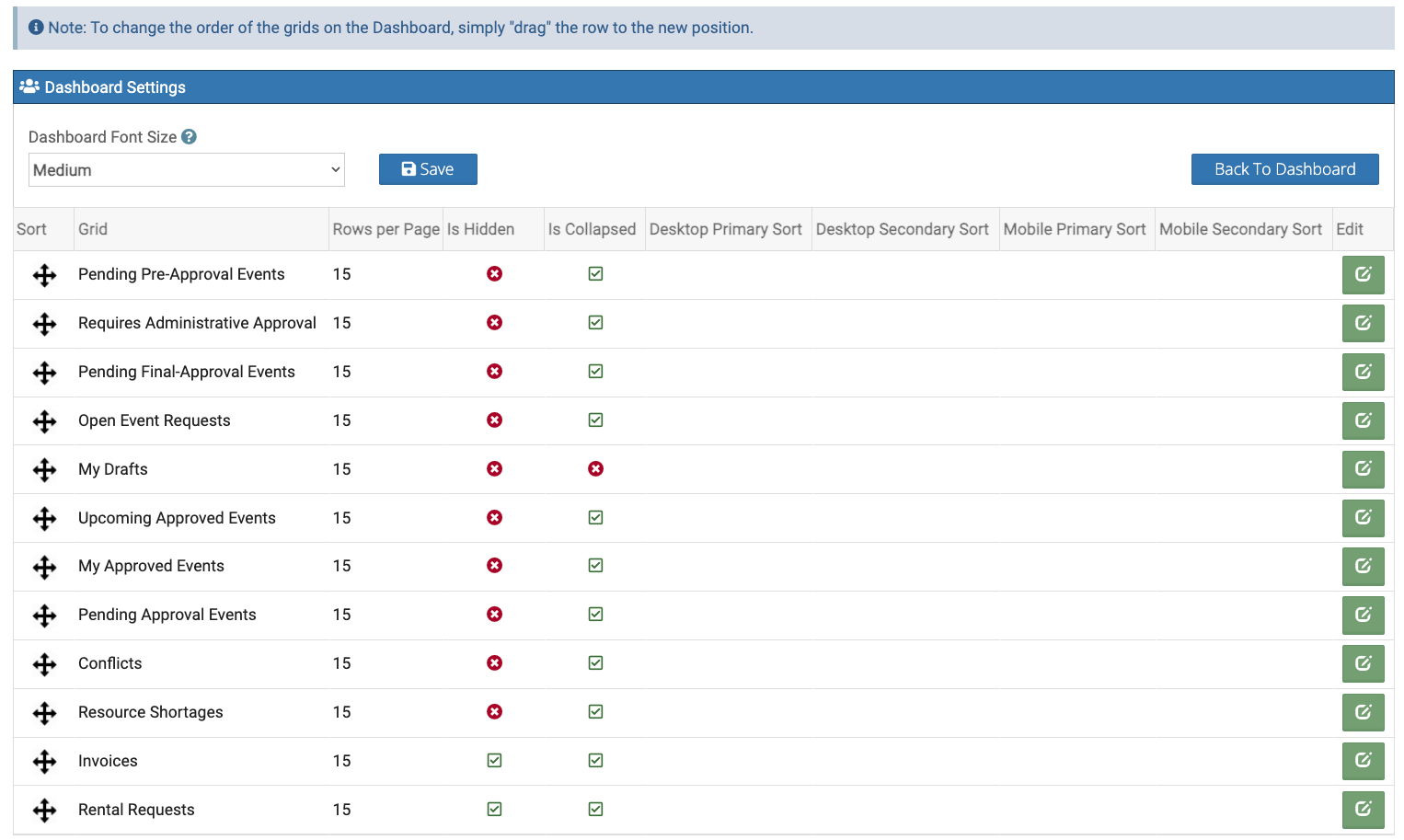 When editing your dashboard grids you can choose a primary and secondary sorting view for your desktop and mobile view.
The eSPACE mobile app is available for free on both the Andriod and Apple stores. All users will use the same username and password to sign into the app that they do for the desktop web version and will have the same level of access that they do in the desktop version. Admins can change the level of access for any user on both the desktop view and the mobile app.