Door Access Control - S2
How to setup door access for your S2 doors in eSPACE.
NOTE: You must complete the following before setting up your doors in eSPACE:
You must flip on the SECURESPACE option from your eSPACE billing account.
Once you have access to FACILITeSPACE, you can add users.  Click Settings->Users in the FACILITeSPACE left navigation menu.  Make sure you grant anyone that needs DOOR access this permission.
Once turned on this user will now have access to controls DOORS in the FACILITeSPACE 
Next we need to set Credentials to connect to S2

Set Credentials - this will be the same credentials you use to login to S2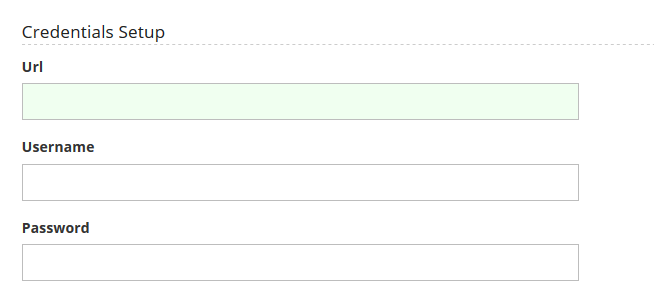 Buffer Setup - This is where you will setup the buffer minutes to unlock door before an event, and lock doors after an event.  NOTE: Unless overridden, all doors will use the Event Start and Event End to create the lock/unlock schedule.
Discover Your Doors
Next you need to discover your Doors inside eSPACE.  
Click "Start Discovery Process" button.

Once clicked, the system will retrieve your doors from S2 and populate them in a grid.
Setup Your Doors
Set Location (if a multi-campus site).  If you are using the Location feature inside eSPACE, you will need to set the location for each Door that is discovered.  Simple click the "EDIT LOCATION" button to set the appropriate location.
Give any user that needs door access control the following permission:

Controlling Doors inside FACILITeSPACE
Now that you have your Doors setup, you can now control which doors will open for your event and at what time.  To control which doors get unlocked for your event, anyone with ACCESS CONTROL will see all events in the next 7 days in their dashboard:

Clicking the EDIT DOOR ACCESS allows them to:
Cut Door Access OFF
Add Overrides
Defaulting Doors for SPACES
Once you have your doors discovered, you can actually set them up for when certain spaces get selected or added to an event.  To do so, simply click the EDIT SPACES button and add for each door:

Controlling Doors at the Event Level
Now that you have your Doors setup, you can now control which doors will open for your event and at what time.  To control which doors get unlocked for your event, you would click the ITEMS table for your Event, then click the Doors tab.  You can then choose any doors that you need to be controlled for this event by simply checking the door(s) you want controlled. 
NOTE: Selected doors will unlock at the time of the event and lock at the end of the event unless:
You have buffers set (see above step)
Or you have set overrides. (see Setting Overrides section below)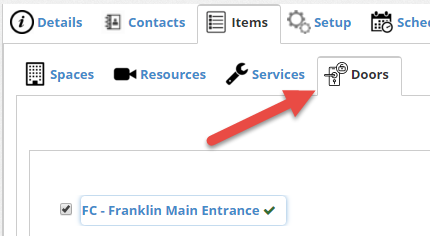 NOTE: Door access cannot be controlled for events that cross days in eSPACE
Override Lock/Unlock Doors at the Event/Occurrence Level
eSPACE also allows you to override your doors for an event that need to lock/unlock at different times than the event start/end times.  You can set as many overrides as you need by going to the Items->Doors tab inside of an event and clicking the "Add Unlock/Lock Time" button.  See the image below.  
NOTE: If you set an override, any buffers you have setup will be ignored.

Override Doors at the Organization level.
In the event there is a organization emergency and you need to lock one, all, or some of your doors, there is a mechanism in place to allow this.  From the DOOR setup screen, click the "OVERRIDE" button for any door.  You will be presenting with options to:
Lock Door
Unlock Door
Revert to Schedule
Simply select the override you want to add, and then select a duration.  The override will then stay in place for that door until the duration has elapsed.  At that time, the door will either go back to any events scheduled or revert back to it's normal operation schedule.
If you wish to override ALL doors, simply click the "OVERRIDE ALL" button at the top of the page.  This will set the override to all doors.  This is great for a organizational wide lock-down or if you need to quickly unlock all doors for say a fire-drill.
Bypassing the Door Access control for an event.
If you do not wish to have the doors control for an event, you can check the following option under EDIT DOOR ACCESS.

Send questions to support@coolsolutionsgroup.com.