This integration allows MinistryPlatform users to be able to add events within the eSPACE Event Scheduler, take advantage of all of the different approval options, view events on the internal calendar, run reports and use other features and modules! Also, users can sync event occurrences to MinistryPlatform so that they can display it on their public calendar, add event registrations, and more!
REQUIREMENTS: You must have an eSPACE Event Scheduler account and Ministry Platform Account.
SETTING UP THE INTEGRATION:
1. To get started, go to your Event Scheduler dashboard and on the left sidebar of the dashboard, select Settings >Other >ChMS Integrations, select MinistryPlatform and click on the Integrate Now button to add your integration credentials. For instructions, please refer to the Integration Guide.

2 Next, set the correct Time Zone for both MinistryPlatform and Event Scheduler accounts. Here are the instructions for both:
MinistryPlatform - After logging in, click on Username on the top right of the dashboard. A new window will open where you can add/edit the Time Zone and SAVE!

Event Scheduler - Admins can go to the left sidebar of dashboard, select Settings > Advanced >General to add/edit the Time Zone and SAVE!


3. If you have been using MinistryPlatform and now using the Event Scheduler for the first time, you will want to have your data imported to the Event Scheduler.
NOTE: To request an import, simply go to the top right of your dashboard, select Support from the Help drop-down menu to start a conversation with one of our team members! 

THINGS TO KNOW AND EXPECT WHEN USING THE INTEGRATION:
1. Always begin the event creation process within the Event Scheduler!
2. When using the integration and adding an event, you will notice 3 additional fields within the Event Scheduler Details tab. They are as follows: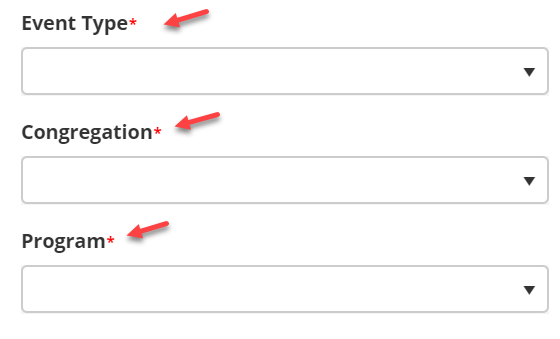 3. A contact is required when adding an event.
4. When you add an event within the Event Scheduler, you need to sync all desired occurrences to MinistryPlatform one at a time. MinistryPlatform does not have a means to designate events related to each other in an occurrence.
5. When you sync the event occurrence, it syncs in real-time!
6. The following fields within the event occurrence will be synced to Ministry Platform:
Event Name 
Event Start/End Dates & Times
Minutes for Setup 
Minutes for Tear-down (Cleanup)
Event Type 
Congregation 
Program
If the event is marked public, it will be public in Ministry Platform
The first Contact of the event is added as the Primary Contact in the MinistryPlatform event
Event Spaces (Currently, we only write Spaces/Rooms to MinistryPlatform without Services or Resources) 
7. If you add a Space/Room, Resource or Service within MinistryPlatform, you will need to go to Settings > Basic, select the applicable item type and then select the sync button shown in the example below.

NOTE: If you have a hierarchy in MinistryPlatform they will both sync to the Event Scheduler. You can only have 1 Parent Building and 1 Child Room only within MinistryPlatform!
8. When you sync an event occurrence to MinistryPlatform, Resources and Services will not sync.
NOTE: The purpose for having the ability to sync your items from Ministry/Platform is so that you can take full advantage of all of the different features when using the Event Scheduler such as viewing all of your items on your internal calendar, ability to add Approval Areas and have Sub-Admins approve any items associated, etc.