Operational Cost Tracker is a tool designed to monitor and manage the expenses associated with the day-to-day operations of your organization.
Available for Work Order and Asset Management Premium and Ultimate Customers
_______________________________________________________________________________________________________________
Here are some key features associated with an Operational Cost Tracker:
Expense Tracking: Operational Cost Tracker helps you record and categorize all operational expenses, allowing your organization to maintain a detailed record of costs. This information can be used to analyze spending patterns and identify areas where costs can be reduced.
Cost Analysis: By aggregating and organizing expense data, Operational Cost Tracker enables your organization to analyze costs across various types. This analysis helps in understanding the distribution of expenses and identifying cost drivers.
Budget Management: Operational Cost Tracker helps in setting and managing budgets for different activities. It provides real-time visibility into actual expenses, allowing your organization to make adjustments and take proactive measures to control costs.
Cost Optimization: With the insights gained from Operational Cost Tracker, organizations can identify inefficiencies, eliminate wasteful spending, and optimize operational costs. It enables them to make data-driven decisions to improve resource allocation and streamline processes.
Reporting and Visualization: Operational Cost Tracker provides Views and a Summary to present expense data in a clear and meaningful way. Graphs, charts, and customizable reports help stakeholders understand cost trends, patterns, and areas of concern.
_______________________________________________________________________________________________________________
Go to Modules, then click Operational Cost Tracker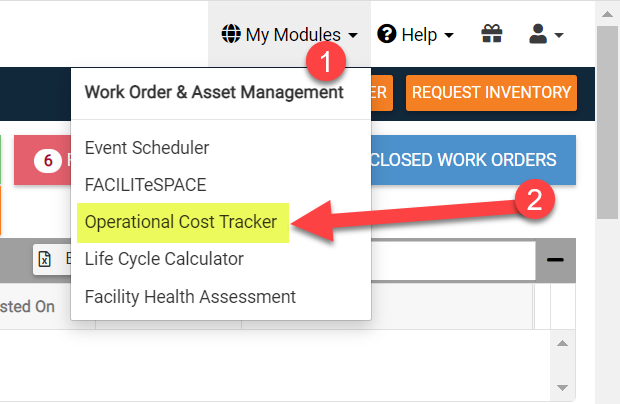 Once you are on the Operation Cost Tracker page, you will see the following options on the left navigation bar:
Cost Data: This is the page you are on and displays each Cost Type and its associated data
Settings: This is the area of adjustments to this feature
A. Cost Types: These are the kinds of costs you can track (i.e. Electricity, Water, Gas, etc.)
B. Sources: The ways your Cost Types are tracked (i.e. usually meters)
C. Users: This page is where you can manage the users of this feature
My Profile: This is the page you can manage your own profile settings and preferences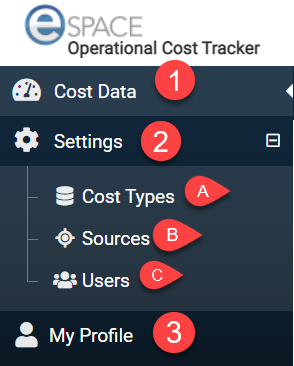 You will also see your Cost Data displayed on this page as follows:
All Cost Types are displayed here and you can add by clicking the plus sign (+)
Set your Time Range to display your Cost Type (default is for the past 12 months)
Set your Location
Filter by Usage, Demand or Other Costs
Choose to aggregate selected Locations
Choose to include previous period when displaying your costs
Create a View that you can share internally and/or as a public (non-editable) link
Choose a Saved View
Add New Data for a selected Cost Type (i.e. add an individual Electric bill)
Export any selected Cost Type data currently in Operational Cost Tracker


NOTE: This is also how you can get an Excel template for importing data

Import selected Cost Type data into Operational Cost Tracker
When you click to Import, you will see the following prompt: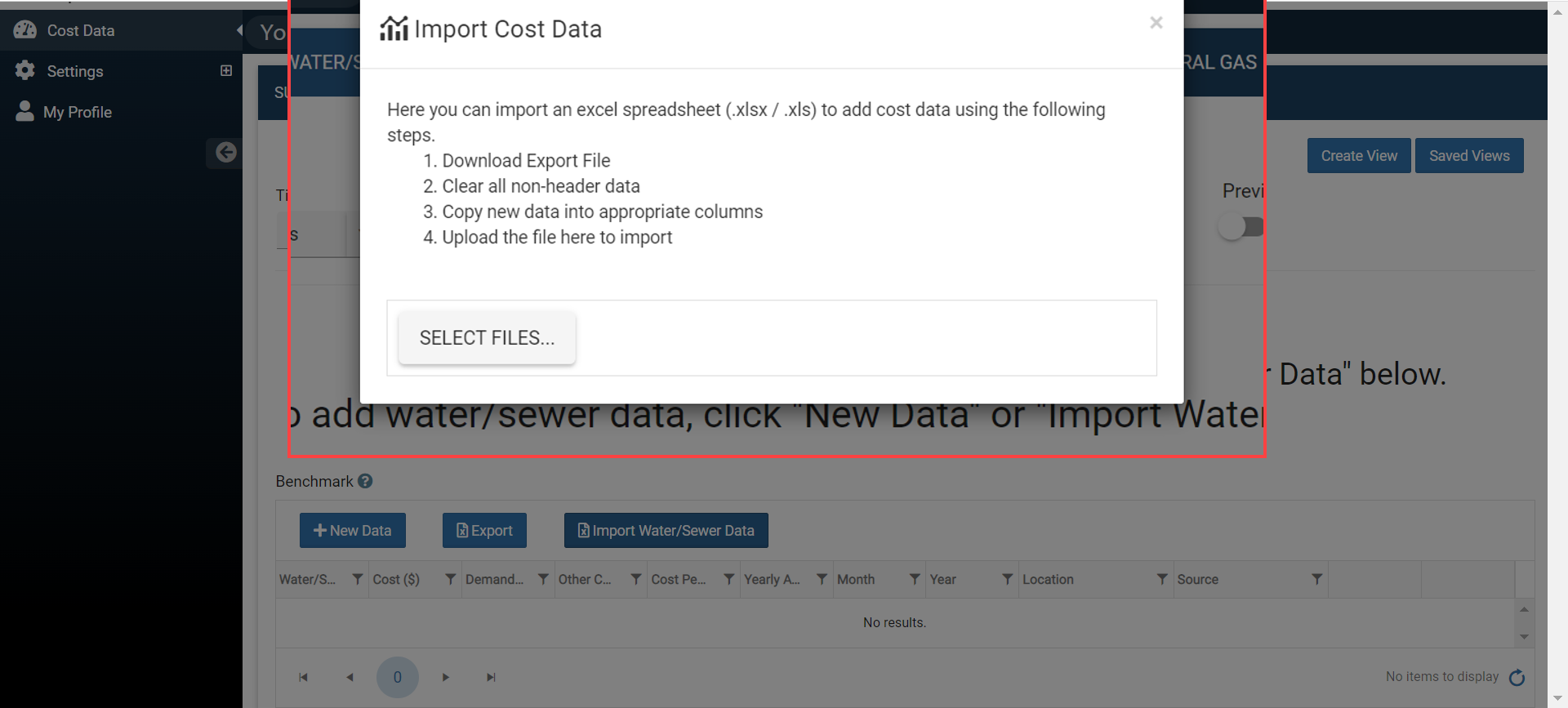 After you have entered your data into a file, selected it and imported, you will see the following:

Now you can explore your newly imported data: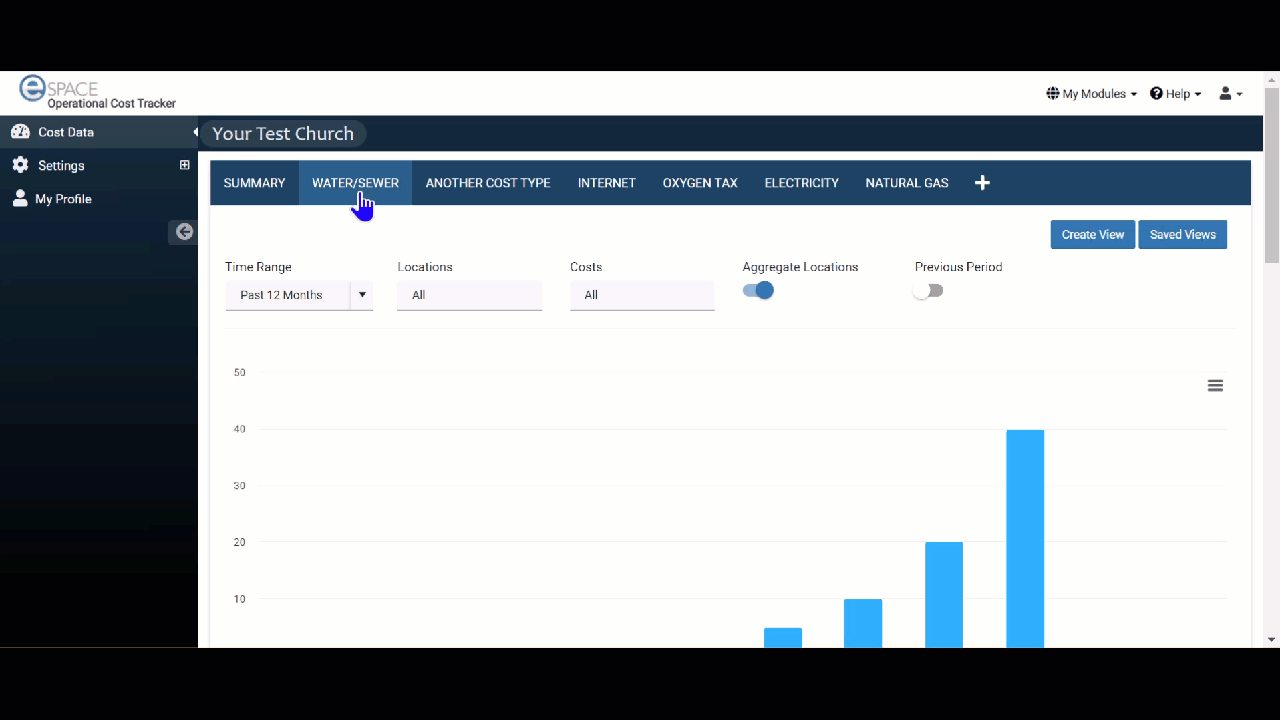 Below is a quick video Walk Around of Operational Cost Tracker!