Pricing
SECURESPACE is available for a separate monthly fee and 1-time setup cost.
Scheduling a Demo
Before adding to your existing eSPACE subscription, we would love to have a one-on-one live demo with you:

Schedule a Demo
Configuring Your Account
After your demo and after you add SECURESPACE to your subscription, please contact support and let us know which specific access control company to configure your FACILITeSPACE account for. Support@smartchurchsolutions.com or select Help > Support in your eSPACE account at the top right.
Each integration with the different access controls companies is built uniquely in order to bridge the gap between the 2 systems. To see the full instructions for your specific door integration, please email Support and ask for the instructions for your specific doors.
You can set the doors to be scheduled to unlock before the start time of the event by either putting in global unlock and relock times/min or by setting individual buffer times for each door to unlock and relock after the start/end time of the event. Both of these settings can be found in FACILITeSPACE under Access Control > your door type.
You can also set an override for the event so that the doors unlock and relock at specific times either on the event in Event Scheduler from either on the main Details tab OR the Items > Door Tab. Additionally, you can also set an override for the doors on the event from the FACILITeSPACE Dashboard.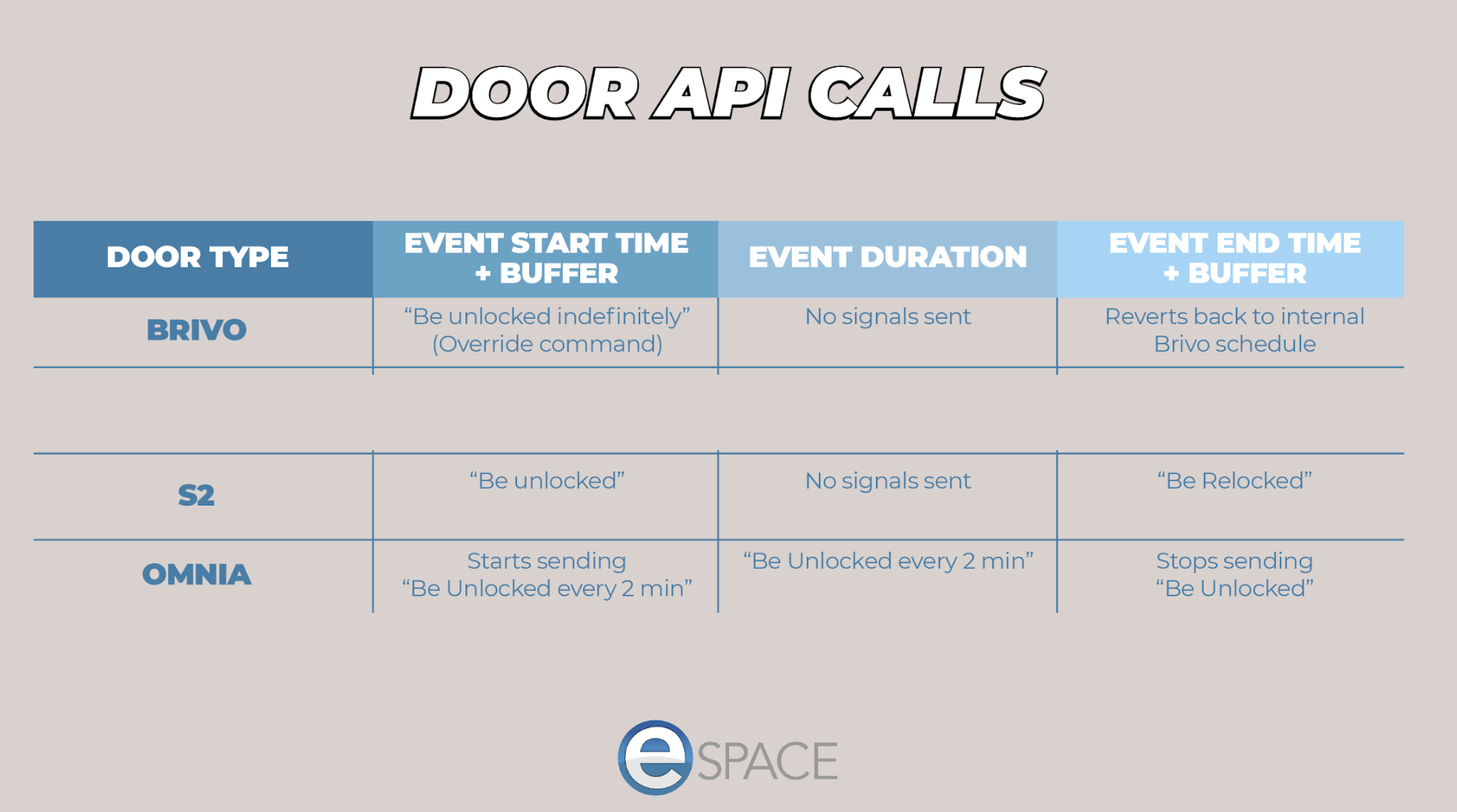 Each integration is built differently in order to be compatible with the access controls for each company's programming language structure.
*If you have an override for the doors, then the "unlock" and "relock" commands will be sent at those times.
If you want to see if eSPACE sent the command to "unlock" and "relock" for an event, you can do so in your FACILITeSPACE account under Access Control > your door type.
To view the door schedule logs, click the symbol on the far left hand side of a door in order to expand the logs.